Interdisciplinary artist and musician Deirdre Murphy is releasing her first album Matriotism on Friday, September 9th. Deirdre's music has been featured on RTE Radio One's playlists, and has been described as "quirky and lovely" by DJ Ronan Collins.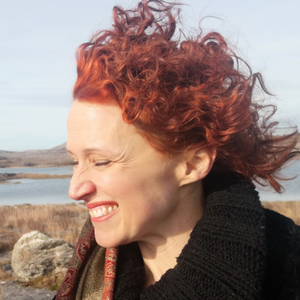 Deirdre has counted herself as a songwriter, singer, choreographer, dancer, playwright, circus artist, designer, and sartorial adventurer. Originally from Alaska, she travelled nomadically through the US for years before moving to Ireland. Deirdre is the writer and creator of "Capitalism: The Musical" (2017) which toured Ireland and Italy to sold out houses and has been translated into Italian. She is the creator/collaborator of many original works of music, dance, theatre, circus, and performance art.
Her songs have been compared to Ali Farka Toure in their sparingness and generally fall in the realm of alt/singer-songwriter/folk. The songs combine a peaceful dream like quality with a sharper edge of darkness or even menace. Lyrical influences include Leonard Cohen and The White Stripes.  
"You have a fairy-in-the-woods voice." Justine, 2am Fibber McGees 
"When you speak, it's like your voice isn't really there." Susan, artist, in a gallery 
"Your voice is like a transmission from the planets." Fergal, a couple of weeks ago. 
The name of the album, Matriotism, comes from the concept of devotion to the motherland; to the earth. Some of the dark tones on the album may reflect the dark turn of health which the planet is undergoing. Other songs reinforce the paradoxical fact that beauty and wonder are all around us, even in the midst of collapse. The launch will be celebrated in concert at the Backroom of the Cobblestones on September 10th. Deirdre will be joined by a host of exquisite musicians for this special event.  
The album features former RTE Symphony Orchestra cellist Claire Fitch; Oli Ryan (Tongue Bundle, Acid Granny, Sound Artist) on double bass, percussion, vocals and guitar; Denis McAuliffe (Mega Trad) on mandolin and violin, Thunderclap Murphy on ukulele, Dylan Howe on trumpet and Deirdre on guitar and piano. Produced and recorded by Oli Ryan, mastered by Eoghan Tyrell.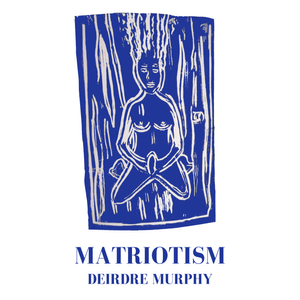 Deirdre created the cover art, a contemporary Sheela na Gig, as a print from linocut. She is launching an introductory limited merchandise line consisting of a silver necklace, a couple of t shirts, and original lino prints. The sheela na gig is an ancient Irish symbol of generative power and female strength and is symbolic of Matriotism, devotion to the motherland. 
Deirdre's previously released singles have been featured on more than 65 radio stations worldwide, and have gotten more than 80K streams on youtube and social media. Her second single Hands Down topped the RTE One Recommends playlist in March 2022.