Interdisciplinary artist and musician Deirdre Murphy is releasing her third single and music video on September 18th. Deirdre's music has been featured on RTE Radio One's playlists, and has been described as "quirky and lovely" by DJ Ronan Collins. She played an electrifying set at the 2022 Electric Picnic and was featured in October 2022 on RTE's program Nationwide. Her music has been featured on the Ronan Collins and John Creedon Shows, on Late Date with Cathal Murray, and on more than 65 radio stations worldwide.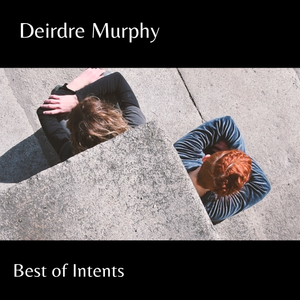 The song Best of Intents is a tightly held gallop of percussion with commanding cello, dark clusters of guitar, and smooth and insidious trumpet. At one point a moaning double bass takes over, stumbling drunk into the family dinner. Lyrically it's an intricate look at the development of the self, the moment of differentiation between personal inclinations and parental expectations, and also about parenting that moment. The video features Deirdre with dancer Aoibhinn O'Dea in a nuanced and flowing relational movement improvisation. It is filmed and edited by Annette Barnaville and made with the support of the Arts Council of Ireland. Best of Intents is the third single from the album Matriotism, available on Bandcamp.
The song features former RTE Symphony Orchestra cellist Claire Fitch; Oli Ryan (Tongue Bundle, Acid Granny, sound artist) on double bass, percussion and guitar; Dylan Howe on trumpet and Deirdre Murphy on piano. Produced and recorded by Oli Ryan, mastered by Eoghan Tyrell. 
Deirdre has counted herself as a songwriter, singer, choreographer, dancer, playwright, circus artist, designer, and sartorial adventurer. Originally from Alaska, she travelled nomadically through the US for years before moving to Ireland. Deirdre is the writer and creator of "Capitalism: The Musical" (2017) which toured Ireland and Italy to sold out houses and has been translated into Italian. She is the creator/collaborator of many original works of music, dance, theatre, circus, and performance art.
Her songs have been compared to Ali Farka Toure in their sparingness and generally fall in the realm of alt/singer-songwriter/folk. The songs combine a peaceful dream like quality with a sharper edge of darkness or even menace. Lyrical influences include Leonard Cohen and The White Stripes.  
"You have a fairy-in-the-woods voice." Justine, 2am Fibber McGees 
"When you speak, it's like your voice isn't really there." Susan, artist, in a gallery 
"Your voice is like a transmission from the planets." Fergal, a couple of weeks ago.